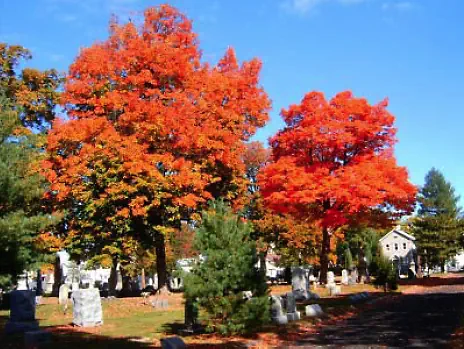 A Haven of Tranquility… A Tradition of Service
Evergreen Cemetery was founded by New Haven's most prominent citizens in 1848. We welcome you to walk the 85 acres that comprise the cemetery. Its park-like setting is truly a haven of tranquility. Each season portrays its own beauty from the blush of pink dogwood blossoms in springtime, through the canopy of trees that offer summer's shade, to the most beautiful colors of autumn leaves, and finally winter's snowy peacefulness. Evergreen Cemetery has an established permanent perpetual care fund so it will be as beautiful in the future as it is today.
Evergreen Cemetery is a non-sectarian, non-profit organization which is managed by the Association's board of trustees. It is staffed by full-time professionals who are available from 7:30am until 4:00pm each day and on Saturday mornings from 8:00am until noontime.
When you choose a cemetery, you choose for this lifetime and for generations to come. It is the place where family will visit after a loved one's death to place flowers, remember good times and discuss a life lost. It is a place to bring children and grandchildren.
Choosing a place to rest pre-need is not easy, but the professionals at Evergreen Cemetery are available to discuss your options.